So, late this afternoon I decided to venture out into the garden. I saw a few dandelions on the lawn earlier and wanted to take my camera to meet them. I took a slow stroll around, looking for the perfect specimen, when our canine family member, Nelson, came charging, full throttle, from the back yard. He was super excited to see me and ran circles around me so I could not move.

I managed to calm him down sufficiently to take a few pics.
He even managed to look well behaved.
And then showed me his bottom teeth. At this point he suddenly jumped up, finally figuring out what I was trying to do and then proceeded to bite the heads of all the dandelions in our garden - well almost.

This one was not completely destroyed and Nelson left me alone long enough to snap a quick pic!
Jealousy knows no boundaries...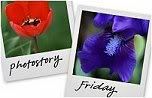 Hosted by Cecily and MamaGeek