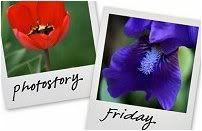 Hosted by Cecily and MamaGeek
Right OK so, right now I am stressed out of my mind. We are going camping this weekend, Henk just phoned to tell me that he's on his way (30 minutes early) and I haven't FINISHED PACKING!! Aaaah! So now I don't have time for a proper PFS, but here is a photo of my dearest Emma, taken this week, where she sat daydreaming while the rest of us were watching the show at the bird gardens. I love that little face to pieces!
So now I'm off to do some mad packing (OMW, I MUST NOT FORGET MY CAMERA!).