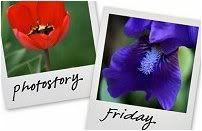 Hosted by Cecily and MamaGeek
Firstly, I'm a bit preoccupied with Joubert this week, since it was his birthday, hence all the big boy related posts.
When we first moved to Johannesburg in 2004, I was not able to join my husband right away as I was studying at the university in Bloemfontein and still had to attend classes for five months. Joubert was eight months old at the time and me separated from his father and living alone for five months posed quite a problem (especially for a sissy like me!). To my rescue came Henk's fantastic sister, who mercifully also lives in Bloemfontein with her husband and three kids. She offered to take me in for the remainder of my course. At first I found it awkward - I am a bit of an introvert and the idea of living in someone else's house was a little intimidating. But my awkwardness soon disappeared as Joubert and I was completely made part of the family and treated like we had always been there. Even though I missed my husband terribly, I remember this time as one of the happiest of my life and I felt very loved.
Joubert off course thrived in their household. His cousins are much older than him, but treated him like their little brother and never tired of playing with him. He and my sister-in-law formed an incredible bond and she will always be like his second mother.
When we finally left for Joburg it was heartbreaking. Joubert became a fourth child in their house and they were incredibly sad to see him go. He was 13 months old by the time we left and they had witnessed so many of his important milestones.
I was worried that Joubert would eventually forget how important they had been to him, but fortunately, he is still very close to them. I was watching his face light up last night when they called him to wish him a happy birthday and was once again reminded of what wonderful people they are.
Anyway, the soft toy was a gift to Joubert from my sister-in-law. He was never attached to a soft toy before he got this one and I know it's only because of who gave it to him. When he first received it, he called it his Michimatian - could not get his tongue around Dalmatian! Even though he now has no problem with his speech, we all still refer to it as the Michimatian!