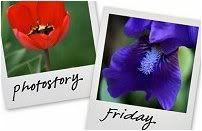 Hosted by Cecily and MamaGeek

I have been envious to the point of ugly jealousy of other people's lovely back lit images for the longest time. At first I had no idea how they did it. Then I took the time to find out, but never seemed to be faced with the right opportunity at the right time. And great optimist that I am, I was convinced that I would never be able to manage it anyway.
So now I'm all proud of myself. The temperature finally dropped to an acceptable level and the wind stopped howling long enough for me to convince the rest of the family to go the beach for an early evening stroll.
And there he was - unsuspecting random jogger, moving into my field of vision with the sun hanging low in the sky in the background. And what do you know, my camera was in my hand!!
Yay! Back lit image done.