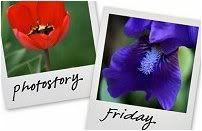 Hosted by Cecily and MamaGeek
My daughter, Emma, turned two in September and through my eyes still seem like a baby. I realise this is more because I really really
want
her to still be a baby...but alas, she is not. I've ignored all the subtle sign for as long as I could, but lately, it's become impossible.
For instance, she is no longer wearing nappies. Teeny, weeny underpants are now making their appearance all over the washing line.
Also, she now sleeps in a BIG bed - and she loves it...
And finally, today she went to 'school' for the very first time. And she showed me just what a big girl she really is. She walked in on her own two feet and joined in the activities without any help from me. She then turned around, gave me a big smile and told me goodbye. I smiled back, gave her a BIG kiss and walked out the door.

I crossed the road, got into my car and cried.
My baby is growing up.