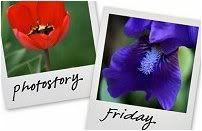 Hosted by Cecily and MamaGeek
Emma is in love with Barney (not the boy, the purple dinosaur!). I think she will gladly send me off to a 6 month retreat if Barney promises to stay with her. Now Barney and his little side-kicks often sing a song about a silly hat. Emma adores that song and sings along word for word while dancing around like little drunk garden gnome. She then decided that ALL hats are called silly hats - I mean, if Barney says its a silly hat, then who are we to argue? Shortly after that she furthermore decided that everything that one can put on ones hat also has to be called a silly hat. She can now frequently be seen running around with a cloth / paper bag / bucket / underpants on her head, cheerfully singing:
"I wear a silly hat, silly hat, I wear it on my head because that's where it's at!..."

Anyway. These pictures feature one of Emma's most favourite silly hats.