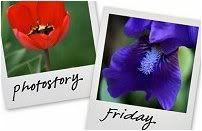 Hosted by Cecily and MamaGeek



A few weeks ago, Joubert suddenly decided that it would be cool to have his head shaven. When he first told me this I looked a little bewildered and decided to ignore it, it would pass. It did not. He continued to pester me about having his hair OFF. I told him no - why would one want to cut such beautiful hair? I should have just listened...


A week ago, as I was finishing up my blog post for the day, I told Joubert to get ready to go to bed. He was standing right next to me and something told me to look up. I looked. And I looked again. I frowned. I tried to tidy his hair. That was not the problem. Joubert, realising that his mother would not listen to reason, proceeded to take a pair of scissors out of the kitchen, and cut his own hair. It was not a particularly successful attempt, but it was done. I laughed. I told him that in future I would listen to his requests, but he must promise never to cut his own hair again!


So the next day we went to the hair salon. And I asked to have the boy's hair cut - very short please (as if there was any other way, given what he did to his fringe). Yes, his head is not shaven, but the boy is very happy.


And so mommy learned another lesson. At five, a boy is old enough to know how he wants his hair cut!